A 100+ year Old Scissor
A 100+ Year Old Scissor
These scissors arrived in a very dirty condition due to their age and the owners were keen to know how old they were, alongside other details! 
The scissors were made by Thomas Wilkinson's factory around 1850. They are part of a series of nine Scissors ranging from 6" to 12". They are varied in that they have same size bows, large and small bows (for fingers and thumbs) and three of the pairs have the handles bent slightly to the side (sidebent scissors!) This enables the scissors to run under the fabric being cut without overly disturbing it.  All tailors and serious dressmakers, soft furnishing makers etc. use sidebent scissors which were invented by Thomas Wilkinson around 1800. 
On this particular pair the Thomas Wilkinson name can be seen on the scissors near the screw. 
Read the story of the very talented original owner, William Young and his great-Granddaughter below…
WILLIAM YOUNG – THE ORIGINAL OWNER OF THESE SHEARS
William Young was born in Edinburgh in 1903, from birth he was unable to hear or speak and so joined the Deaf Society school and community. He was healthy in every other respect, grew tall and played goal-keeper for the Edinburgh Deaf Club football team during his youth.
Too young to be actively involved in WW1, William married a fellow deaf community member (Grace Fairweather) in 1926. Together, they moved into a rented flat in Leith and in 1929 they welcomed their only child, a daughter they also named Grace.
As well as an education, a social life and football, the Deaf Society funded William to train as a shoe-maker. This was an appropriate trade for deaf people (men) at that time as it enabled them to earn a living without having the capability to communicate with most of the population. At this time, the deaf communicated with each other through hand-sign language.
William supported his family by making shoes in his flat (an early fore-runner to "work-from-home"). He primarily produced tailor made shoes for Loakes of London. Loakes would send the client's leather and materials to Edinburgh by rail for William to collect, make into a pair of shoes and then return the finished item to London, again via train. William would be paid a piece rate for every pair of shoes he produced. After each day's work, William enjoyed a smoke on his pipe.
During WW2, William served as a volunteer under the Edinburgh ARP (Air Raid Precaution) squads. Throughout his life he retained a love for football, often attending matches at Hibernian whose ground was located near to William's flat. In later years he joined the Deaf Club bowls team. When he passed away in 1970, his daughter Grace simply could not throw away his beloved shoe-making tools with which he had used for so very many hours. These remained stored in a box in a loft for decades, until a new generation, William's great-granddaughter, emerged as a talented leather crafter and those old tools became re-born.
– Grahame Farquhar, grandson of William Young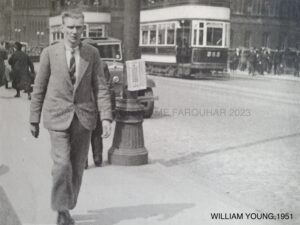 Leathercrafting towards the future
I started leathercrafting around 2016, after feeling the need to start a new craft away from my day job as an illustrator. And naturally (as many crafts do) this led me to building up a good collection of tools to fill up my workbench!
Word spread of my ever expanding drawers of tools and cupboards of leather, until one day I was ushered into the garage of my in-laws to inspect a trove of carefully preserved tools. We knew they were meant to be used for making shoes, and that they were at least a hundred years old.
It was then I learnt the story of William and how he had raised his young family through sheer hard work and determination using his shoe making skills. Knowing first hand how this ethos has echoed down through his descendants, I felt these tools deserved appreciation and care as they had essentially provided for his future generations to thrive! In 2019 I took an interest in shoemaking and attended a workshop in London with the master makers at Carréducker – the shoemaking school. I learnt how to last shoes- using some of the exact same tools as the ones I had inherited!
Back home in Singapore, I started to clean the tools from their decades of rust and revealed some maker's marks that had remained. And with the magic of the internet, I discovered William Whiteley and Sons were the same factory that had made the shears over a hundred years ago!
Fast forward a few weeks, the shears are on their way back to their birthplace, Sheffield, to be sharpened and made ready to be used once again by a new generation of master craftsmen.
It feels wonderful to be reuniting the tools with their purpose!
– Christine, great-granddaughter in-law of William Young
Follow us on social media to find out our latest updates: