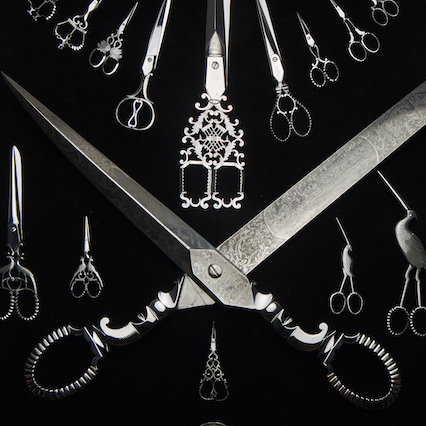 Scissors for the Great Exhibition 1851
We keep a variety of spectacular scissors on display at our factory, as a reminder of the quality of craftsmanship that has been achieved over the years.
These scissors were specifically hand-made to be part of the Great Exhibition at Crystal Palace in 1851, which was organized to display examples of technologies developed in the Industrial Revolution. They are an extraordinary work of art, and extremely special due to their size and their etching; we believe this was done using a stencil and a dilute acid.
On the top blade is an etching of the original Crystal Palace in Hyde Park, built in 1851 specifically to host the Great Exhibition. It was an engineering marvel of its time, at three times the size of St Paul's Cathedral, and featured the greatest area of glass ever seen in a building. After the Exhibition, Crystal Palace was relocated to South London and stood there until a fire destroyed the building in 1936.
As with all of our exhibition scissors, these were specifically exhibition pieces, painstakingly hand-made with top quality crucible steel. To reflect their unique craftsmanship and beauty, Whiteley's was awarded medals that feature the faces of Queen Victoria and Prince Albert.
These scissors are the centerpiece of our historical display case, accompanied by their respective medals and a selection of other stunning historical scissors.