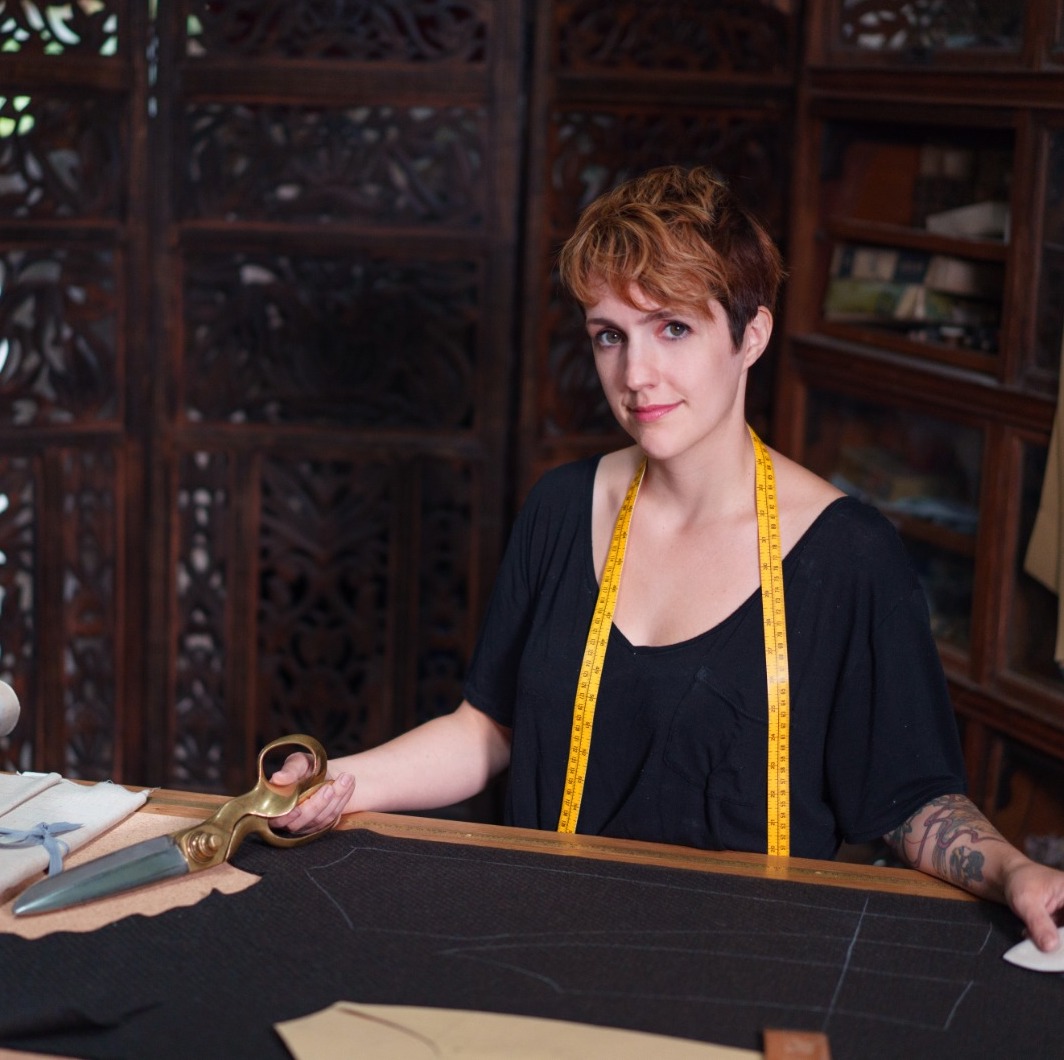 Friday Five – Interview with Sara Fay
What do Sherlock, Mary Poppins and Aladdin have in common? The answer is Sara Fay – cutter and tailor for film and tv with an impressive IMDB resume.
From an early fascination with antique sewing items, Sara nurtured a passion for menswear, teaching herself from old 1940s and 50s tailoring books. Beginning as a junior tailor for an opera house, her career shifted to the film industry when she was invited to work on the movie Cinderella.
_
_
What inspired you to become a cutter and tailor in the film industry?
When I was young, my mother opened her own bespoke bridal shop in Glasgow. I often helped out and this certainly sparked my interest in sewing, but I was always drawn towards the heavier fabrics and wool of menswear, instead of the lace and silk adorning the shelves in my mother's workroom.
After courses in fashion technology and performance costume, I then got a place on the 'Costume for Theatre Television and Screen' programme at the Bristol Old Vic theatre school, where I could really hone my passion for menswear. After graduating, I worked at Glyndebourne Opera house for six years, working my way up from a junior tailor to First Hand Tailor. It was then that I decided to make the jump from theatre to film!
_
What was your first film job like?
My first job was working on Cinderella – where I ended up running my own small team cutting and making menswear for a few months when they were really busy. I really wanted to be a cutter, but I never really got the opportunity to learn cutting from someone first hand, so am mainly self taught. I was very lucky on Cinderella, as I went in as a maker, but was able to step up and help when some last minute men's costumes came up and they needed someone to cut them.
After that I had the amazing opportunity to be a cutter on seasons 5 and 6 of Downton Abbey, and have been working steadily ever since!
_
What are some of the challenges involved in creating costumes for film?
One of the most interesting challenges is working on stunt costumes. When I worked on Kingsman; The Golden Circle, we had stunt doubles that would wear anything from bespoke suits to wetsuits, with harnesses, knee pads and back braces. Whether it was an acrobatic fight or a driving stunt, each one involved a lot of costumes!
We also had a bespoke pinstripe fabric woven just for Kingsman – so it couldn't be purchased in a shop. Each suit uses about 5 metres of fabric, and we ordered thousands of metres, which should give you an idea of how many suits we got through during filming!
As the film was set in a Savile Row tailors, it was vital that all the costumes were of the highest standard. As Head Cutter, I had to cut patterns for the principal actors that were indistinguishable from the ones cut on Savile Row, even when adjusting for the stunt equipment.
_
_
Tell us more about the process of creating costumes for actors and stunt performers!
I create fully bespoke garments by taking measurements from the actor or stunt double. Where possible, I take a normal set of measures, and then a set when they are wearing their harnesses – or in the case of Kingsman, wetsuits! You have to know where to cater for the equipment they are wearing; for instance on a stunt suit needed on top of a wetsuit, you would need to lower the armhole, widen the shoulders and the cross front and cross back a bit, and make the sleeves and the body larger than usual.
When using a harness, however, they have to cut holes in the suit on set to allow the cables to pass through and attach to the harness, so we had suits with dozens of holes which had been cut and mended. Eventually we would then switch to a fresh suit to take its place.
For the suits used in fight scenes, we had grown on gussets cut on to the undersleeve to allow the performers to lift their arms more easily. We also intentionally made the sleeves too long, because when punching they always roll back on the arm, and added to the cross back to give room for the rounded shoulders when in the 'punching stance'.
However, you can only anticipate so much as you never quite know what will end up happening in the actual scene, and the needs changes depending on the type of stunt; driving, flying, fighting, or in water…
_
How much do you have to prepare for a film like that?
We were on Kingsman; The Golden Circle as a workroom for about 8 months in total – and it was pretty manic that entire time! Usually when a film workroom starts up, we have a few weeks to prepare before filming starts. Our prep was cut short however as they wanted to film some stunts beforehand.
The problem with the preparation time is that the stunt doubles haven't actually been cast yet – so I often had to cut blind, and hope that the person eventually cast was the correct size! But I actually did baste fits for most of the suits, and had a casting at the start, which meant I could have a proper fitting when they arrived and make it from scratch having marked up any alterations.
Once filming began, there was a separate team of costumers who ran the show on set, – doing mends and alterations and dressing the actors. That said, I did sometimes get to go on set and on location to do a fitting if the actors weren't available to come to us.
I didn't actually have that many people to make for – just the main cast and their stunt doubles (they had two or three doubles each). So after the initial fittings were done and tweaks made, it was just a case of making repeat after repeat after repeat for all of the stunts as they wore out the previous ones they were using.
_
_
To learn more, visit Sara's website here.