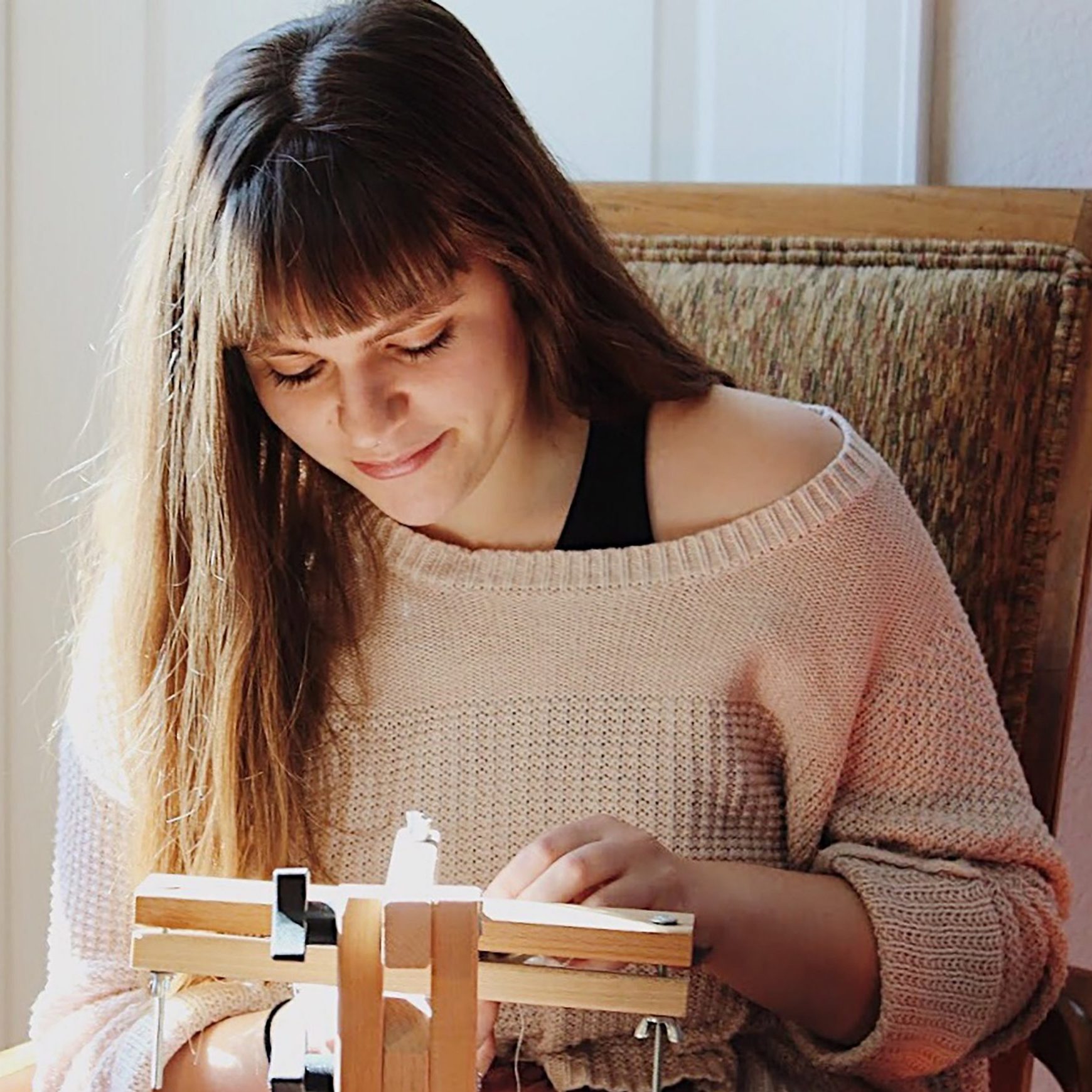 Friday Five – Interview with Carly Owens
For another edition of our Friday Five interviews, we are so excited to introduce Carly Owens. Carly is a contemporary and embroidery artist and designer for fashion and interiors. Carly is the owner of a a thriving business specialising in sustainable pieces featuring ore embellishment techniques and, playful and colourful motifs.
When and how did you learn the skills to become a hand embroidery artist?
I started embroidering back in 2016 when I had the opportunity to study abroad for the summer at the Royal School of Needlework. There I was introduced to goldwork and crewelwork hand embroidery techniques which I continue to use to this day. Since graduating university in 2017, I've been continuing to refine my skills on my own though countless hours of practice and repetition.
What inspired you to turn your hobby into a business?
I essentially spent my final year of university focusing solely on hand embroidery and felt that it was what I wanted to pursue as a career. There aren't very many hands-on embroidery based jobs in the US and I'm very much one who marches to the beat of their own drum, so I took the plunge into starting my own business pretty immediately. I began by making small pieces and started an online shop shortly before graduating. It was definitely a new experience for me because I'd never sold work before and honestly didn't really know how to go about doing it. I started slow and small which worked well for me. I am lucky enough now to be able to work full-time as an embroidery artist and designer. My business has grown really organically from the investment of time and persistence. I'm only two years in so I'm excited to see where it goes from here!
What are your preferred crafting tools?
When it comes to goldwork embroidery, fine quality goldwork wires make all the difference. They have such a wonderful feel and luster to them which make them so fun to work with. Fine needles, sharp snips and a seated embroidery frame are some of the basic tools I use every day when embroidering. I've recently acquired a pair of William Whiteley gold plated embroidery scissors and I am in love. They have the perfect point for snipping fine threads cleanly which is essential when it comes to meticulous hand embroidery work.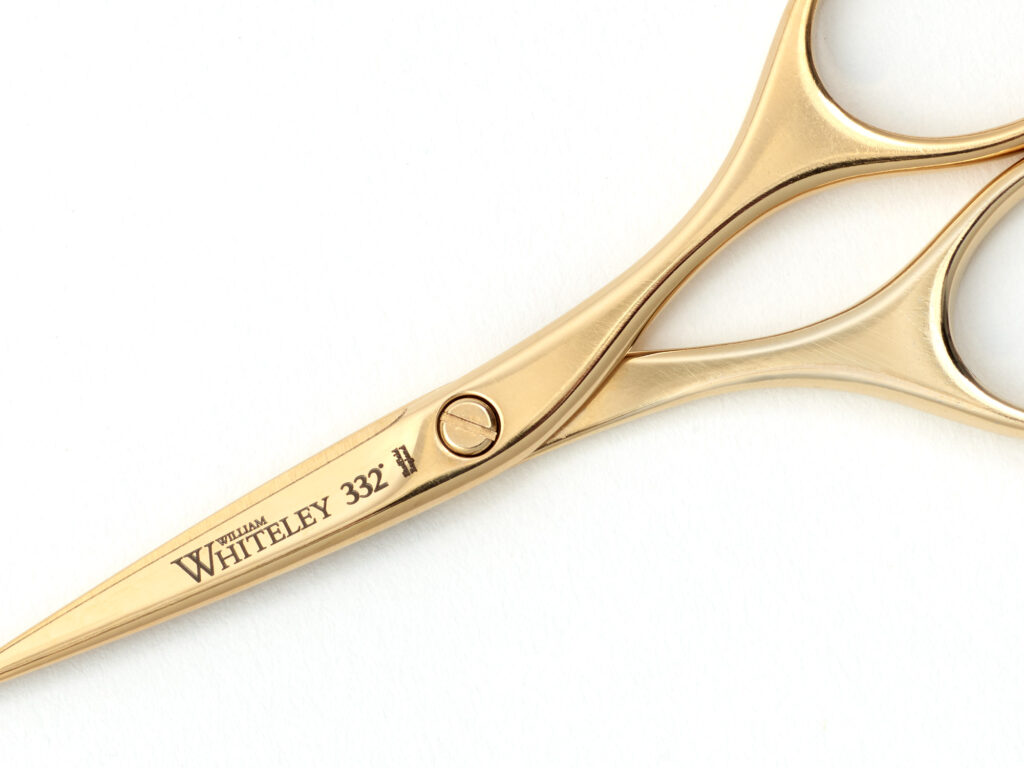 Eyes feature a lot in your work, could you tell us more about the meaning behind this?
I'm a bit of a historical fashion buff. About two years ago I stumbled upon Victorian "Lover's Eye" jewelry and have been studying them ever since. I found their haunting gazes mesmerizing and was obsessed with their symbolism as a token of secretive love. I personally find a lot of wisdom in the symbolism of the eye serving as a talisman and I love that my work takes on different meanings for different people.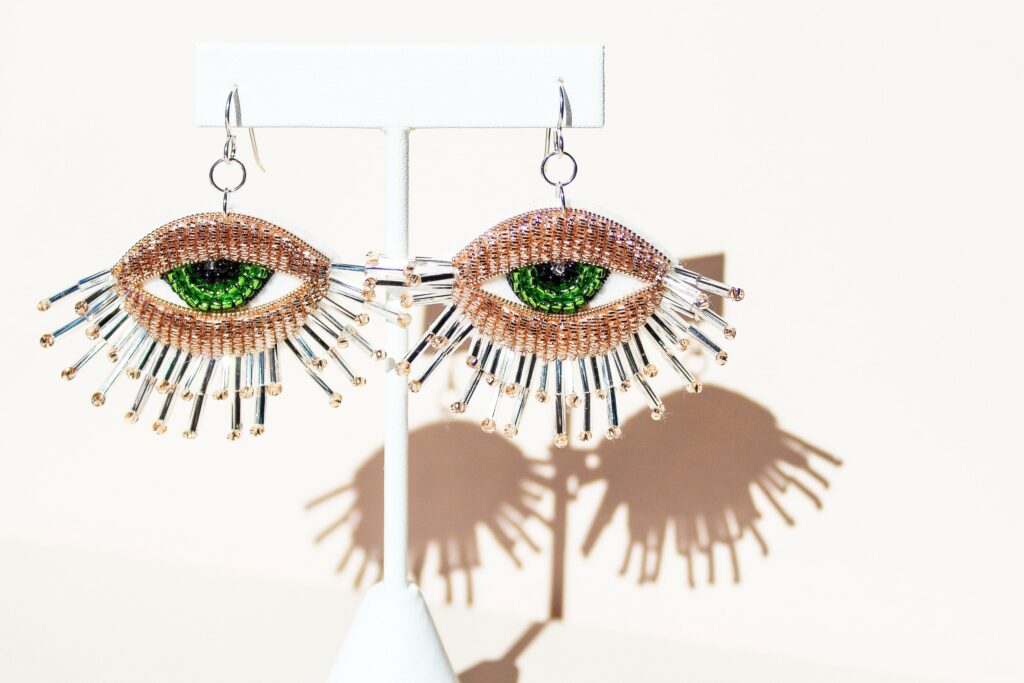 What are your favourite things to make?
As long as I'm embroidering, I'm very much content. However, the traditionalist side of me loves when embroidery lives on the body. That's mostly why my current work is embroidered jewelry and wearables. But if I had infinite hours in the day to stitch, I would love to create more hand embroidered and constructed garments. The majority of my university education was focused around fashion design, so when I discovered hand embroidery, combining the two came naturally and was a really exciting prospect. I spent over six months stitching my finalist-awarded entry for the 2017 Hand & Lock Prize for Embroidery. There was a lot of blood, sweat and tears involved with creating such a large and time intensive piece, but in retrospect, I loved every second of it. In my eyes, it is my best work and hopefully I'll be able to find some time to be able to get back into making large pieces like that. To me, heavily hand embroidered and hand constructed garments have the capacity to blur the line between fashion and art.