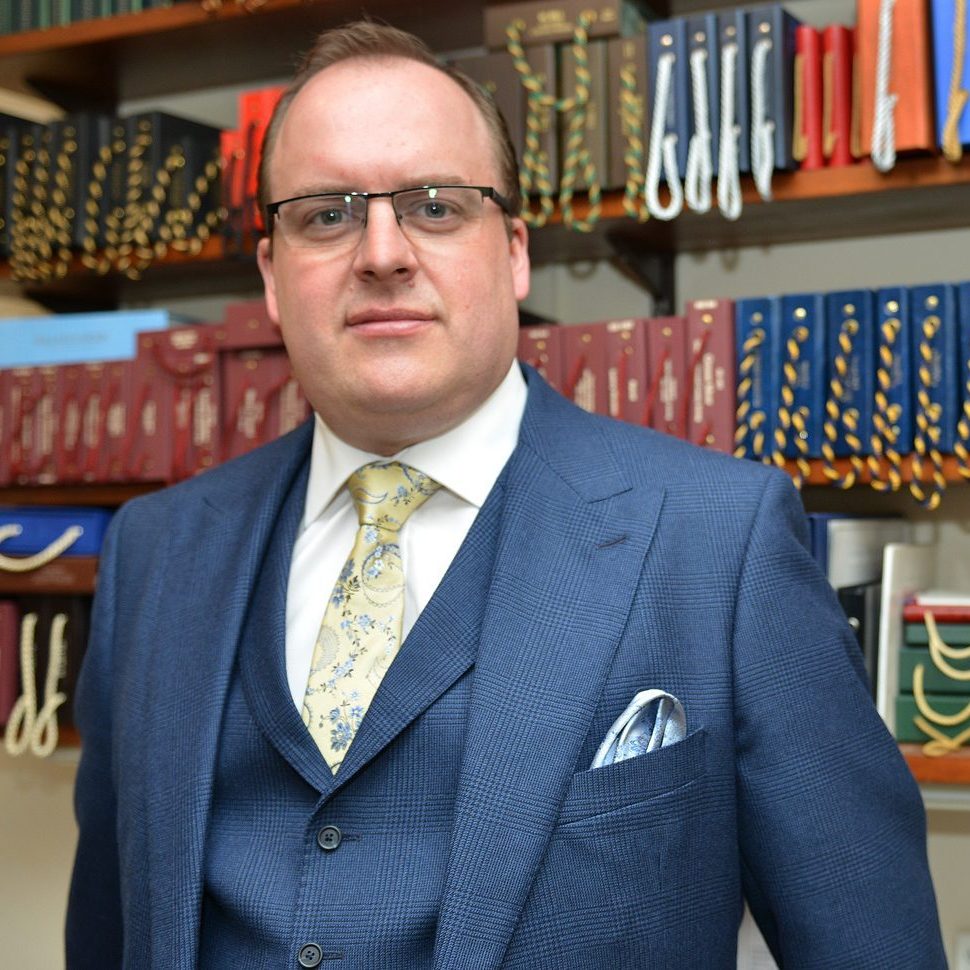 Friday Five – Interview with Andrew J Musson
For another edition of our Friday Five interviews, we are thrilled to introduce Andrew J Musson. Also known as the Lincolnshire Tailor, Andrew spent over 20 years perfecting his craft on Savile Row before making the move back up north. Andrew specialises in bespoke, made-to-measure and ready-to-wear suits and has a thriving business in the heart of Lincoln.
What inspired you to become a tailor?
As a teenager, I was always really interested in clothes and the latest fashions and very passionate about the way I looked and dressed, but it was my father that first inspired me to become a tailor.
My father who was a cutter owned his own tailoring business here in my home City of Lincoln and would ask me to come in on Saturday's to help out and also to earn some pocket money. Being in this environment really fuelled my passion for menswear and thus, lead me to want to become a tailor.
As my father was extremely busy running the business on his own, he suggested that there was only one place that I could properly learn the trade and that was London. Back in those days there used to be a trade magazine called Tailor & Cutter and this particular edition had an advert for an apprenticeship with a Savile Row tailoring company My father showed me the advert and a couple of weeks later, I went down to Savile Row for an interview and then before I knew it, I was packing my bags and leaving home, on my way down to the Big Smoke to start my tailoring career!
When and how did you learn the skills to become a tailor?
At the age of 17, I successfully gained a 4-year apprenticeship with a well-established bespoke tailoring firm on Savile Row, then formerly known as 'Wells of Mayfair'. The apprenticeship incorporated a one day a week attendance at the London College of Fashion, where I was honoured with my City & Guilds diplomas at distinction level for stages 1, 2, 3, & 4 in Men's bespoke tailoring & pattern cutting. In my first year, I was also awarded the Silver Rose bowl for 'Best 1st Year Trainee' as part of the Golden Shears training competition.
After my successful apprenticeship, I was offered a position of under cutter with a young and upcoming fashionable tailor, Timothy Everest. Here I was involved in the cutting of suits for many celebrities and films, such as Tom Cruise and Mission Impossible. Being in my early twenties, it was a very exciting place to work in!
Then after 5 years, I was head hunted to return back to Savile Row and start my position as a cutter at 'Davies & Son', one of the oldest established tailors on the Row. This is where I spent the majority of my tailoring career as a successful cutter and where my career literally took off! I became responsible for representing the company on an international level, seeing clients in cities around the world!
What made you make the move from Savile Row to Lincolnshire?
After over 20 years in Savile Row, my father who was looking at retirement offered me the opportunity of taking over his long-established tailoring business back here in Lincoln.
I always knew that one day my father would ask me this question but, it wasn't the easiest decision to make back then, having had a very successful position in Savile Row and also then having recently got married to a local London girl, it would be a big move back!
After lots of discussions and consideration and many sleepless nights, I decided to make a new home back here in Lincoln. Now, I have been back here for 12 years.  It's certainly proved to be the best decision I could have made!
I am very fortunate to still have a really strong bond with Savile Row and friendship with old colleagues. I can pop down to the row and be made to feel very welcome, it's as if I never left, and then come back to my country home in beautiful Lincolnshire. I guess you could say that I have the best of both worlds!
What are your preferred crafting tools?
As a cutter, my shears are without a doubt the most valuable tool that I treasure. I was very fortunate to be given my shears when I first started my apprenticeship at 17 years old. They were passed down to me by the master cutter that first trained me and I still use them today!
Having said that, I am extremely thrilled to also now own a pair of beautiful Gold EXO Shears, which are superb and a real joy to use!
I guess I also wouldn't be without my wooden graduated tailors square which I also inherited from my apprenticeship. This enables me to draft my client's paper patterns to any dimensions, a most valuable tool of the trade!
I am also lucky to have inherited a couple of old Singer sewing machines from my father, which are the pride of my sewing room. These two work horses just keep on going and going!
What are your favourite things to work on?
I have always loved working on tweed garments, this is really a big favourite of mine.
As Lincoln is at the heart of a very rural farming area, we are regularly asked to produce lots of tweed garments from suits, sports jackets & waistcoats through to overcoats and shooting suits. As tweed seems to be extremely popular at the moment especially with the younger generation, we are constantly working on beautiful vibrant designs. There are some really wonderful tweeds available these days. It is really great to see the younger guys choosing to wear tweed for their wedding suits as well.
We were recently commission to produce a 3-piece wedding suit for a client who had actually gone and sourced a company to produce his own tweed from his required colour scheme and design. The tweed was amazing, great colours and really great to work on!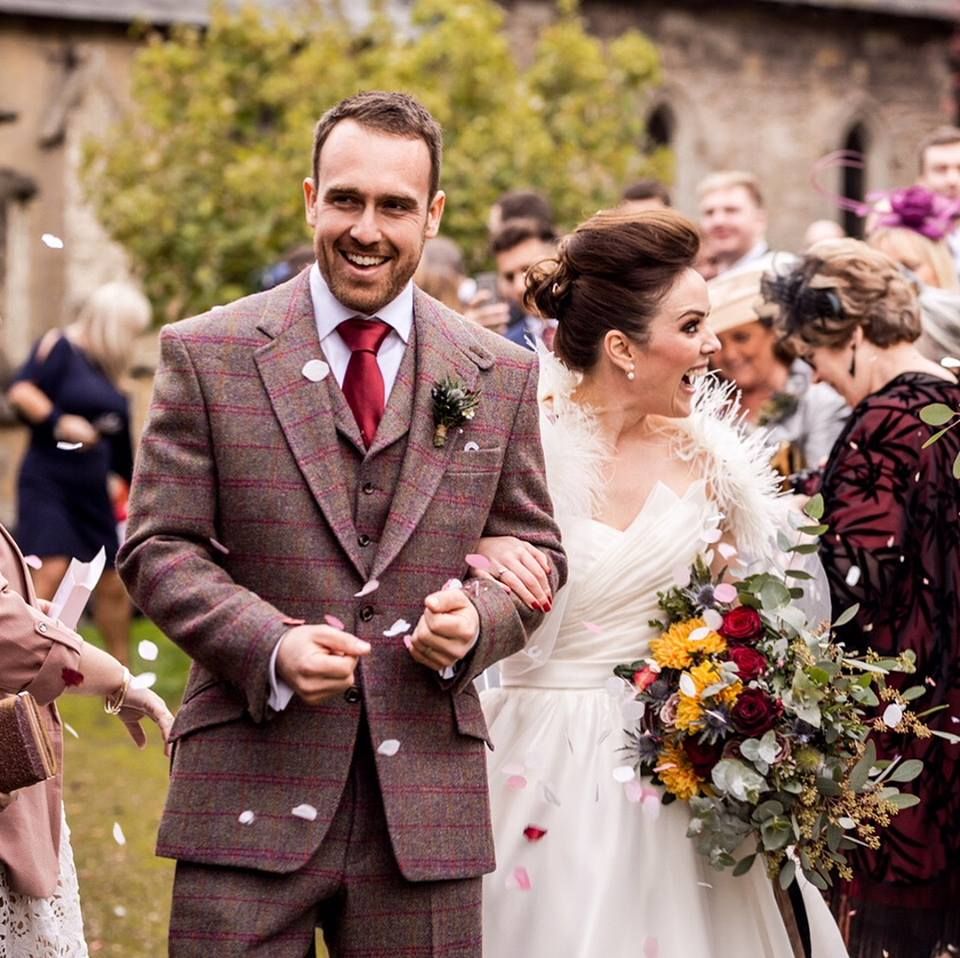 If you would like to find Andrew's account Instagram, you can follow him at @andrewjmussonbespoke.