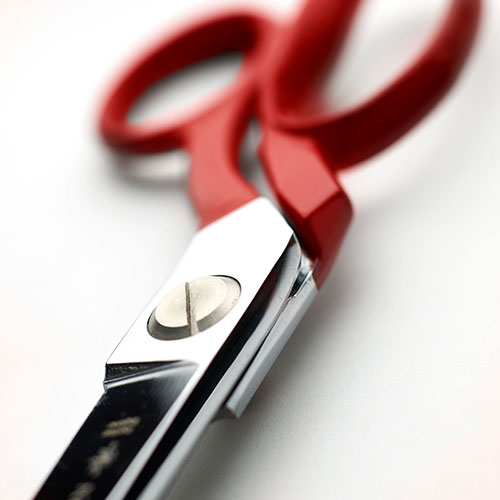 The Best Scissors for the Job
No matter which fabric you are cutting, whether you're a novice or an expert. From quilting to tailoring, dressmaking to textile art, we have a scissor to suit. A pair of our scissors could well last you a lifetime if you choose them carefully and care for them properly.
Here's a roundup of our top ten fabric scissors (IN NO PARTICULAR ORDER!) and their best uses.
Wilkinson Classic
The most traditional scissor in our range, the Wilkinson Classic has a sharp, chrome-plated blade. These scissors come in range of sizes and either left or right handed.
Drop forged from high quality carbon tool steel and handmade by our craftsmen with black painted handles. They are capable of cutting through silks, chiffons, cottons and moderate thickness fabrics. Their smooth, sharp edge means you can run them along fabric too and a unique thin coating inside the blade resists corrosion and ensures optimum smoothness of operation. The perfect tool for anyone working with large materials for example curtain making or a tailoring 'cutter'.
We make a variety of sizes and patterns in both left-handed and right-handed.
Shop Now
Wilkinson xtra Sharp
Almost exactly the same as our classic scissor but edged differently to provide a stronger cut. One blade is serrated to grip material and the other is a knife's edge to slice through.
These are great when working with denim, leather and other thick materials but wouldn't be suitable for chiffons, silks or running along fabrics as they might catch the fibres of these fabrics. If you're making jeans, cutting multiple layers or working with leather these are the perfect shears.
We make them in a variety of sizes, and for both left and right-handers.
Shop Now
Wilkinson Glide
Our Wilkinson Glide range was designed to be as lightweight as possible with no compromise on cutting ability. We make three sizes, embroidery, dressmaking and DIY. With each size the blade is stronger and the 10 inch DIY scissor is more than capable of cutting tough materials like rope, carpet and denim.
The blades are Teflon coated which extends the blade life whilst also providing a non-stick coating, useful when working with tape or other adhesives. They are perfect if you're working in, or own, a business where you need a tough reliable scissor, or choose the gift set for three sizes of scissor to cover all cutting purposes.
Shop Now
EXO
Our EXO shears are the most powerful and all round scissor for fabric. Designed to fit comfortably in the hand, no matter what your hand size might be, whilst delivering a powerful cut time after time.
Capable of dealing with chiffon right through to leather, the blades are extremely sharp and cut right to the tip.
Choose between the timeless silver finish of our all stainless EXO Silver or the our premium gold ceramic coating found on our EXO Gold. The EXOs also come in a gift-set which also includes a pair of Whiteley embroidery scissors and a bespoke, handmade leather EXO sheath.
Shop Now
Wilkinson Black
The Wilkinson Black scissor range evolved from the development of a scissor that would cut through Kevlar (bullet proof material) read more about that here.
They are manufactured in both 8 inch and 10 inch varieties, for both left and right handed users. The Black range comes with a straight edge, similar to or classic sidebents.
They are capable of cutting through silks, chiffons, cottons and moderate thickness fabrics. Their smooth, sharp edge means you can run them along fabric too.
Their Teflon black coating provides a low coefficient of friction meaning they cut lightly and easily through fabrics.
Shop Now
Wilkinson Ceratech
Our Ceratech scissor was manufactured for a renowned UK fashion brand, for use in their own workshop. The foundation is our classic sidebent but it is beautifully finished with an extremely tough, high-end industrial DLC coating (DLC stands for Diamond Like Carbon).
The surface of the Ceratech scissors are protected with an industrial grade, diamond like coating, offering a low coefficient of friction facilitating a lighter, smooth action when the scissors are in use.
The coating drastically extends the life of the shears whilst creating a sleek, matte black look. A titanium nitride coated screw holds the shears together, and provides a striking gold styling cue.
These are a wonderful, unique gift for someone who works with fabric.
Shop Now
Pinking Shears
Cloth edges that are unfinished will easily fray, the pinking shear was developed as a solution. The sawtooth pattern limits the length of frayed thread and minimises the damage of it.
Our pinking shears are made of tough stainless steel, particularly tricky to make as the radius of each tooth has to be finished individually. These are great for tailoring, dressmaking but also useful working in craft to cut paper or felt artistically.
Shop Now
Wilkinson Colours
An adaption of our classic scissor, the Wilkinson Colours have a smooth, sharp edge and come in a variety of sizes and colours for both left and right handed.
Perfect for tackling most materials but might struggle with thicker ones such as leather and denim. We'd recommend these for dressmaking and quilting.
Shop Now
Leather Shears
Available either with black japaned painted handles or our fully coated matte black Teflon coating, our leather shears are designed with long shanks (handles) to give maximum leverage and sharp blades to power through thick leather. One blade edge is serrated to help grip whilst the other slices through.
Designed for leather but also great at tackling thicker materials like denim. The blade is short so pick these if you need more detailed cutting. You would need our Xtra sharp range to achieve a longer cut.
Shop Now
Buttonhole Scissors
These scissors look beautifully vintage and are adjustable to cut buttonholes to the exact length you have set every time.
The notch in the blade is placed against the edge of the fabric so that you can cut the buttonhole equal distance to the edge every time. Perfect for tailoring and dressmaking.
Shop Now