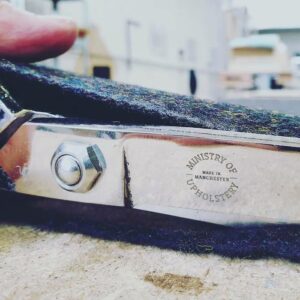 william Whiteley & Sons have been HANDCRAFTING unparalleled upholstery scissors IN SHEFFIELD, ENGLAND since 1760
Our upholstery scissors are used by professionals worldwide, including the renowned Ministry of Upholstery, who use a variety of our shears in their workshop.
"Quality counts for everything… You need to use the best to be the best". (Anthony Devine, owner of the Ministry of Upholstery)
We stock a variety of different scissors to tackle upholstery materials. Scroll down for our leading three patterns.
Endorsed by Savile Row tailors, the Ministry of Upholstery, and leading suppliers of craft tools, EXO are the go-to cutting choice of professionals, craftsmen and women, and hobbyists.
Inspired by the historical shears made by our very own 'Master Cutler' Thomas Wilkinson in the 1800s, the design brings together the ergonomics of a heritage product with a stylish and technologically advanced finish.
The highest quality scissor you can buy more than capable of dealing with all types of upholstery materials.
Buy Now
Our hot-forged carbon steel sidebents are world famous, and used by professionals due to their unrivaled quality and craftsmanship.
Hand-made by craftsmen using traditional techniques, they offer precision cutting for all types of upholstery fabric and feature a unique corrosion protection on the inside.
Extra sharp with one micro-serrated blade and one knife edge blade, these shears are able to grip slippery materials and reduce cutting effort for thicker materials, as well as being chrome-plated to extend life and resist corrosion.
Buy Now
The largest of our Wilkinson Glide range, these are tough yet lightweight scissors, with teflon-coated hollow ground blades. Ideal for upholstery as they are beyond capable of cutting through tougher materials and lightweight to avoid strain after extended use.
Plastic handles are comfortable and ergonomic, offset for ease of use and made from a dishwasher-proof high quality plastic.
The glide series also comes in a gift set; featuring three sizes of scissor this kit contains everything you need to cut through thick materials, glide through long lengths of fabric or snip detailed shapes or thin threads.
Buy Now