Left-Handed Fortnight: An Interview With Jade
Jade works in the busy William Whiteley warehouse; working the laser machine for bespoke engraving and packing orders so they get to their new homes safe and sound. We asked her for her take on being left-handed…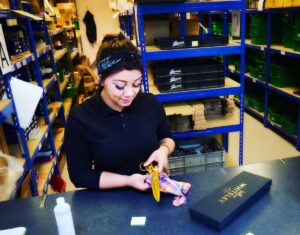 "Being left handed can be difficult at times, I am a lover of all things arts, crafts and handmade so I'm sure to find an inconvenience due to being a lefty wherever I go, whether it's something as small as cutting open packaging all the way to cutting and sewing material to make a fairy tale dress for my little sister. Everything seems to be designed around being right handed.
.
I struggled quite a bit while studying Textiles in school; I was in a relatively large class and often had to share machines, fabric and scissors. There were only 2 pairs of left-handed fabric scissors and around 5 of us lefty's so very often we had to make do with right handed ones. I was creating a recycled dress out of Next carrier bags and offcuts of denim which turned out to be very difficult to cut out neatly and one slip would cause the plastic to tear when pulled tight so with the added difficulty of trying to either use right handed scissors with my left hand or trying to use my right hand to cut, mistakes were a lot easier to make.
.
I first remember using a pair of left handed scissors in primary school; the yellow and green handles always helped me make the best paper snowflakes!
.
I use scissors in the warehouse at William Whiteley's to cut bubble wrap to make sure the scissors are packed safe and secure and also to cut up the fabric we use to clean them.
.
Out of the new Wilkinson Colours range, my favourite has to be teal. It's so pretty and also the colour stands out so if you're anything like me and like to put your scissors down in strange places, they stand out so there a lot easier to find!
.
Being a lefty has its own set of little daily difficulties (writing while leaning on the spine of a note book being my least favourite!) Don't let a pair of scissors be one of them!"
.
Find our new Wilkinson Colours range here.