Thomas Wilkinson and Old Factories
Whiteley's began its story in the countryside, powering its forging and grinding from a giant waterwheel that turned in a forging dam.
Then came the Industrial Revolution and the exciting new power of steam. Whiteley's moved into town – freed from the water wheels by the development of steam engines – to a factory on Gibralter St in Sheffield in 1787. There were several relocations after this, and we eventually settled in at 29 Rockingham Street in 1876.
The year before in 1875, we had incorporated Thomas Wilkinson & Son in 1879, another scissor-maker. Thomas Wilkinson was Sheffield's Master Cutler, who invented the 'sidebent' scissor – he cranked the handles so that they tilted upwards, which allowed for smoother cutting of cloth as the lower blade could run flat along the fabric.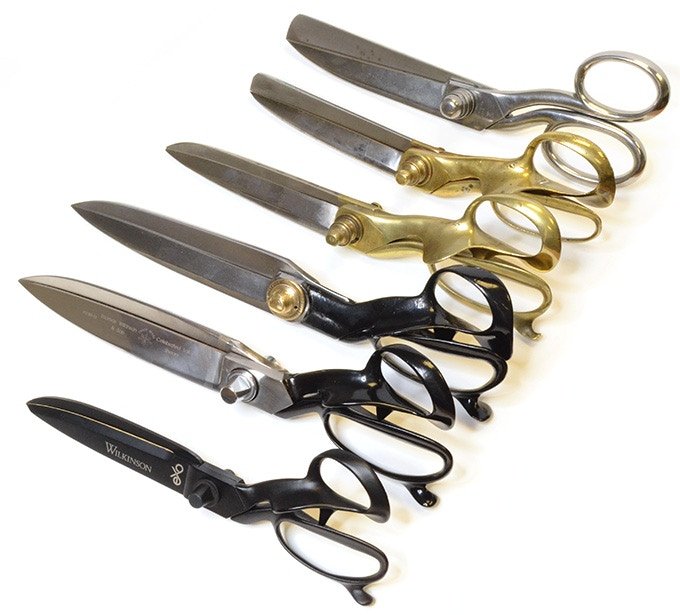 Tailors and dressmakers have Thomas to thank for the current style of tailors' shears and sidebents! Here you can see how our fabric shears have evolved over the years from top to bottom, with the cranked handles, ergonomic grip, the 'foot' on the tip of the handle, the 'pin' between them, and the big bolt to enable easy pick-up and put-down.
Wilkinson's also had a Royal Warrant for scissor-making to Queen Victoria and Prince Albert, and had won medals in the Great Exhibition of 1861 alongside William Whiteley's. We still use the Wilkinson name today as the brand for our highest-quality products.
From 1876, we stayed at 29 Rockingham St right up until 1975, which is where I had my first introduction to Whiteley's.
29 Rockingham Street had once been an inn, so it came with fascinating medieval cellars and even a well in the basement. Not everyone was so impressed with these, however – a hapless member of an electricity company once came to read the meters, and accidentally fell down the well… to be eventually rescued!
The factory was a maze of little rooms; each room had its own gas fire to keep workers warm, as well as a spindle running through it, to deliver belt-drive to all the grinding and finishing wheels. All of this was driven by an engine in the cellars.
My grandfather, 'Mr Harry' was running Whiteley's when I first went to the Rockingham St factory as a child, and my father 'Mr Bill' sat opposite him when he joined the company in around 1950.
Grandpa was an old-fashioned gentleman who always dressed in a coat and Homberg, was unfailingly polite, and smoked 40 Gold Leaf untipped every day. While we don't sport Hombergs in the office anymore, to this day we still make many of the same scissors that my grandfather did.