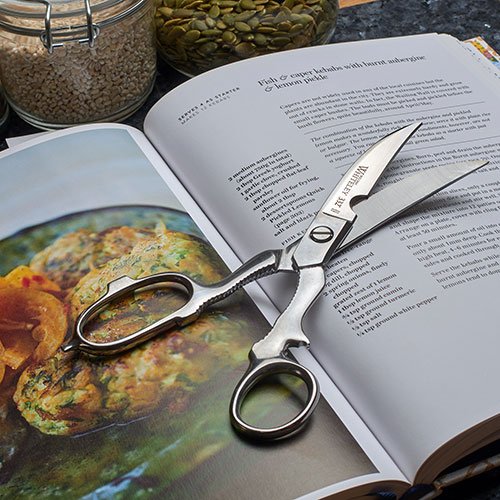 Top 5 Father's Day gift ideas
Struggling to find a perfect gift for Father's Day? Look no further! June 16th may be just around the corner, but we've rounded up our top 5 scissors to make sure that whatever your dad is into, we have you covered.
Most of these come with the option for personalized laser engraving, so you can add a name or a bespoke message to make your gift even more special. Here's what made the cut:
For the family chef:
Does your dad love to cook? Or is his culinary output exclusively based around grilling? Either way, our classic kitchen scissors are an ideal companion for both kitchen and garden. With a bone notch, serrated blades that make short work of any meat, and a handy bottle opener on the side, these scissors are a must-have for any barbeque!
For the DIY hero:
If he has a knack for fixing things, and can often be found wiring, soldering, hanging, mending, and more… then your dad needs our electrician's snips. With powerful small blades and a tough matt black coating that resists adhesive and extends life and wear, these are small enough to fit in a pocket or a tool kit and capable of snipping cables with ease.
For the car enthusiast:
Perhaps your dad has a classic car in the garage that he spends his Saturday afternoons tending to. Sometimes you wonder if he might love the car more than you… If he's working on the interior he's going to need a strong pair of fabric scissors. With a variety of sizes and colours, for both right and left-handed cutters, you can't go wrong with a pair of our classic Wilkinson sidebents!
For the green fingered:
If your dad loves to spend time in the garden, look no further: our garden pruners come with specially designed blades to chop through shrubbery, with a thinner blade serrated for extra grip and curved to slip around stems. Choose from our classic chrome plated design for longevity with garden green handles, or our striking matt black Teflon coated pair.
For the sacred home office space:
Does your dad work at a desk? If he has a taste for the finer stationery in life, then a customised pair of EXO shears are a truly unique gift, whether to gloat over at home or to show off to his work friends. Exquisitely ergonomic, powerful and sharp, these scissors are a dream to use and have a sculptural elegance that makes them the ideal desk companion. Available in sleek silver or eye-catching gold.
All our scissors come in stylish packaging, and we ship worldwide. Order yours now to make sure they arrive in time for Father's Day, and give the gift of true British craftsmanship – designed to last a lifetime.