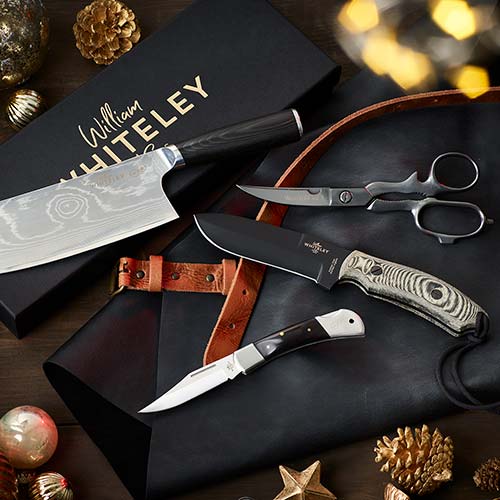 Christmas Gift Guide: Gifts for Him
We're back with another edition of our Christmas Gift Guides. This time we are looking at ideas for him. From the chef, to the handyman, the angler to the explorer – we think we've got all bases covered!
Remember, all of our items are available to purchase on our website (stock permitting) and we offer UK first class domestic shipping and also fully tracked worldwide shipping. In addition, all our items are packaged in our signature William Whiteley gift box or presentation box meaning you are sure to impress this Christmas Day.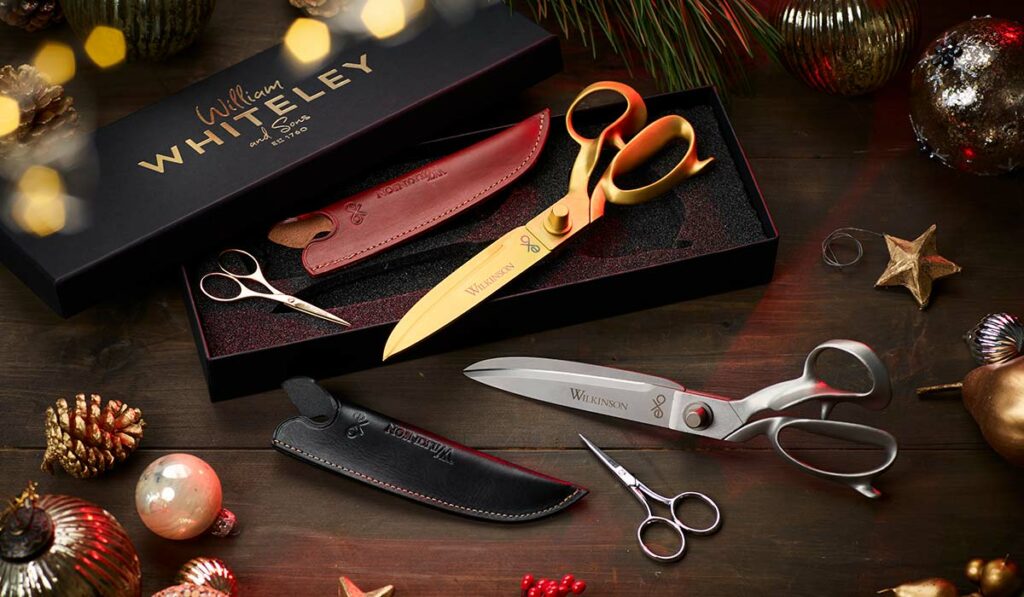 Chef's Professional Damascus Knife Set
If you're looking for a real treat this Christmas, then look no further than our Chef's Professional Damascus Knife Set. Complete with 6 knives capable of bringing culinary ambitions to life, it really is set to wow this Christmas Day. Endorsed by Celebrity Masterchef finalist, Sam Nixon, they have been designed with the highest of specifications in mind.
The set features:
Chef's Knife
The perfect all-round knife for a variety of tasks in the kitchen, including chopping, dicing and slicing. With a broad blade finishing in a super sharp tip allowing you to rock the blade as you cut, it allows for complex and versatile cutting and despite its larger size, can easily achieve intricate julienning.
Santoku Knife
Featuring a wide sheepsfoot blade to meet a straight-edged front blade, the Santoku Knife allows for refined slicing across a wide range of food products. Lighter than the Chef's Knife with less of a radius, a stable and powerful knife creates an effortless item that you can't afford to be without.
Bread Knife
To easily saw through the bakery's freshest loaves, our Bread Knife features a beautifully serrated blade, capable of cutting through soft bread whilst still preserving the shape and presentation. With an offset handle and generous blade length, you can easily cut all the way to the bottom of your loaf.
Slicing Knife
A slimmer, lighter version of a carving knife, allowing you to initiate a precise cut when you'd like to cut through meat thinly yet accurately.
Boning Knife
A flexible knife to pierce meat with easy and safety. Designed to cut close to the bone, it is extremely sharp and able to be maneuvered into tight places thanks to its slender blade tip.
Paring Knife
A lightweight and compact paring knife makes light work out of frequent kitchen tasks. A collection must-have, its versatility makes it ideal for a whole host of tasks including peeling fruit and vegetables.
All knives boast high carbon VG10 stainless steel blades with an above industry standard hardness of up to 62 HRc. Every knife has been designed with balance at the forefront of its properties.
The multi-layered Damascus steel blades provide an ultra-strong core coupled with flexible stainless steel allowing the edge to be honed to razor sharp precision, providing superior edge retention. As the Damascus blades are built up of many sandwiched layers covering the core of the blade, each knife is completely unique.
The handles are manufactured from Garolite, a resin based composite material lending itself to extreme strength and durability thanks to its moisture resistant attributes. The top choice of professionals.
Handcrafted Leather Roll
To carry the tools of your trade, the set comes complete with a hand-crafted leather roll ensuring they are carefully stored when on the move. Crafted from premium leather, with detailed stitching, every roll is meticulously made by hand to compliment the quality of the knives inside.
To add the finishing touch to this set of a lifetime, the leather roll can be laser etched with a name or message.
To purchase, click here.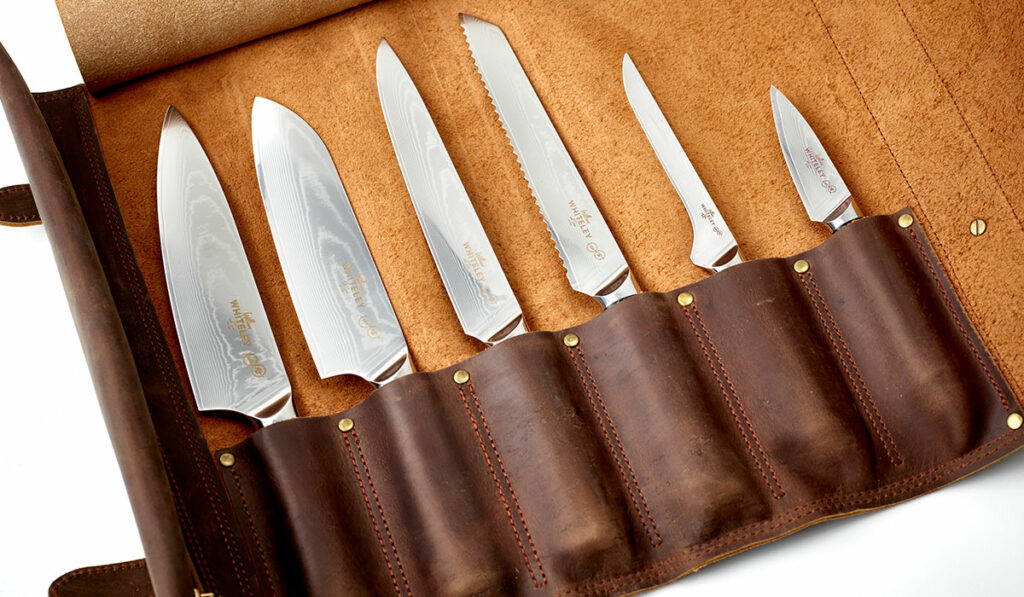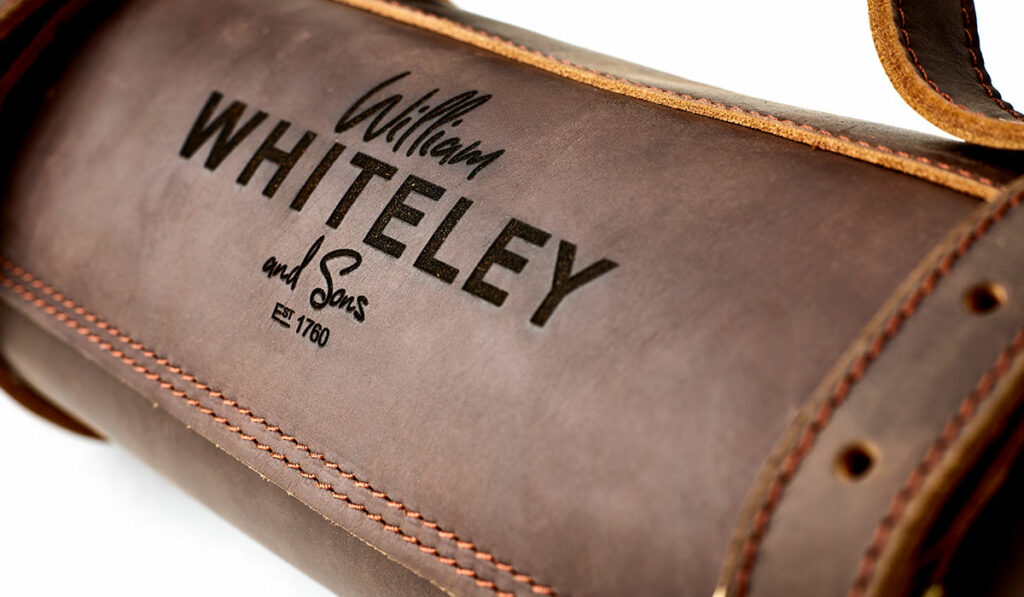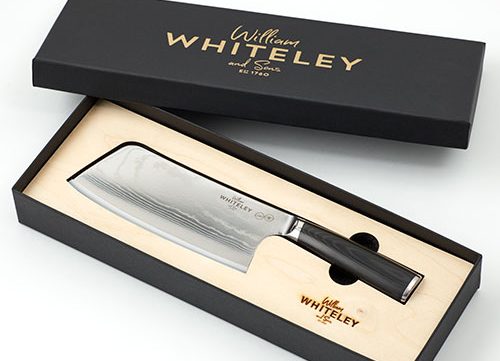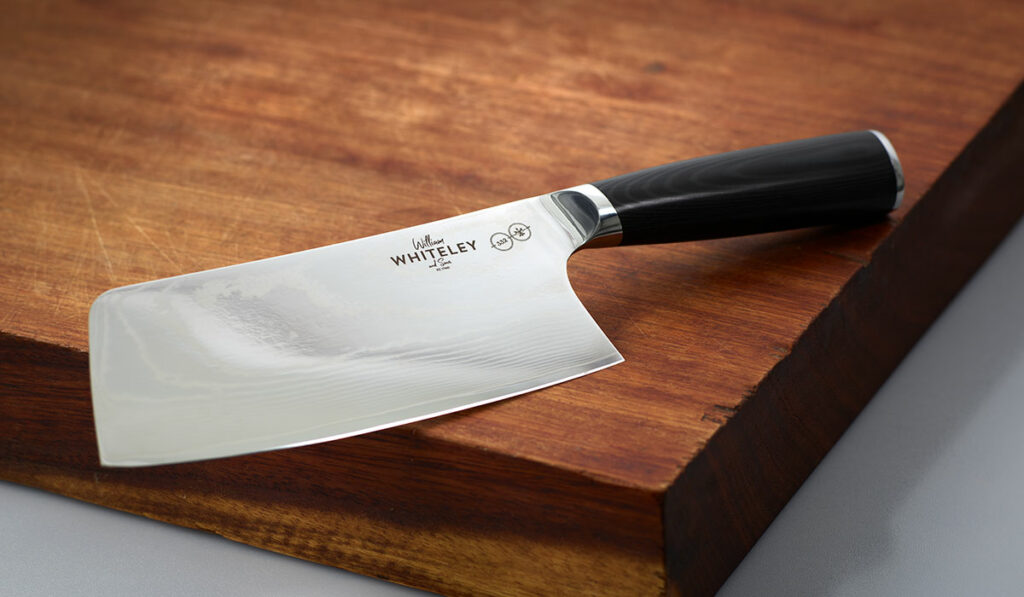 Our super sharp Damascus Cleaver Knife will certainly make the cut this Christmas. Manufactured from high carbon VG10 stainless steel with an above industry standard hardness of up to 62 HRc, our Damascus Cleaver Knife has been made to be the best. We have put superior sharpness, longevity and durability at the forefront of our Damascus Cleaver as we wanted to ensure it was the perfect addition to any kitchen knife collection.
The multi-layered Damascus steel blade provides an ultra strong core coupled with flexible stainless steel allowing the edge to be honed to razor sharp precision and provides superior edge retention.
The ergonomic G10 resin infused handle not only provides a striking design, but also aids the Whiteley Damascus cleaver knife's precision balanced handle and blade.
As the Damascus blade is built up of many sandwiched layers covering the core of the blade, each knife is completely unique making it an extra special gift. Each knife is able to be lasered with optional personalised engraving and is presented in our signature gift box, complete with bespoke foam and wooden insert.
And, if you open your gifts early enough, just in time for any last minute Christmas Dinner preparation!
To purchase, click here.
Our Whiteley 3 inch handcrafted, folding, locking knife is made from 440 stainless steel and features an ebony wood curved handle. Using a higher grade stainless steel ensures optimum performance and longevity making it ideal for the avid adventurer, green-thumbed gardener or general hobbyist.
Our Whiteley pocket knife also comes with a Whiteley branded bespoke pouch ensuring the knife will remain safe and protected whilst not in use. In addition, the Whiteley Pocket Knife is available with bespoke laser engraving making it a perfect keepsake for many years to come.
To purchase, click here.
Handcrafted with 100% cow's leather and finished in a stylish black waxed coating, this multi-purpose gift is ideal for a range of used. It has flown from our shelves after endorsements from Double AA Rosette Head Chef and Rafters co-owner, Tom Lawson and also Mellors Elliot Motorsport rally driver, Ollie Mellors.
The neck and waist straps are fully adjustable so one size fits waists from 33 inches to 49 inches. In addition, the leather neck straps feature an additional leather layer for comfort.
An ideal gift for any chef, crafter, hobbyist, BBQer or professional who requires something durable whilst wanting to keep clean. Thanks to the Apron's special waxed finish, it repels dirt and grime and easily wipes clean with a damp cloth.
It also features a lower brown strap ideal for hanging cloths and it's available with bespoke laser engraving adding a finishing touch to an already special item.
To purchase, click here.
Our Whiteley Fishing Kit is the ideal accompaniment to any fishing tackle box. Featuring 6′ curved fishing foreceps, 4′ fishing braid scissors and fishing line clippers.
Our 6′ curved fishing foreceps are ideal for extracting hooks with their serrated blades and locking handles for extra grip. Our 4′ fishing braid scissors feature extra sharp points and blades, perfect for dyneema fibres and superlines. Finally, our fishing line clippers are ideal as a line clipper or hook eye cleaner.
All items are made from top quality stainless steel ensuring durability against the elements so they can be used daily without any fear that they will let you down.
Our Fishing Kit comes packaged in our signature gift box making it the ideal present for the angler in your life.
To purchase, click here.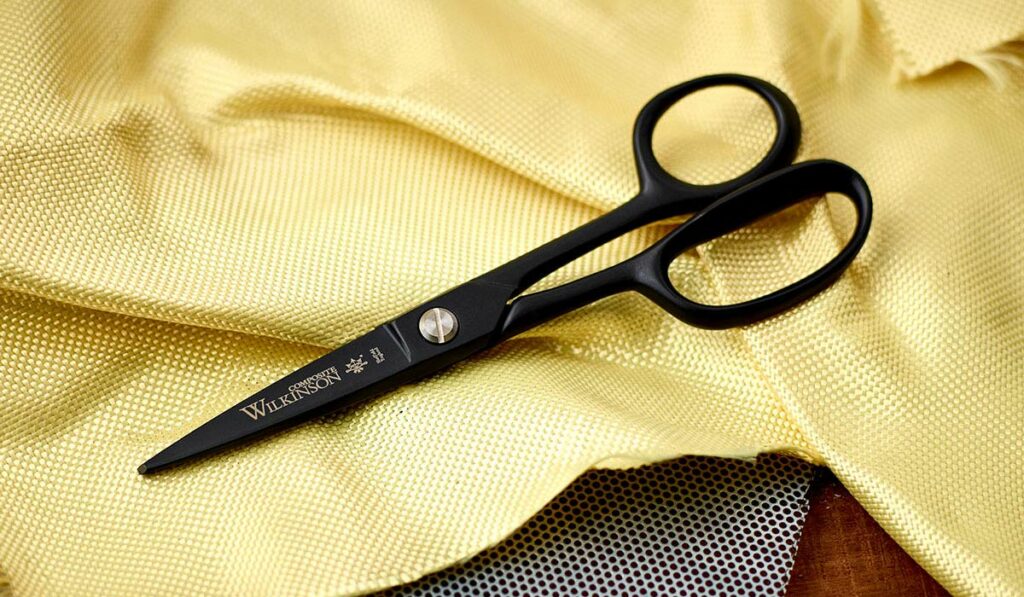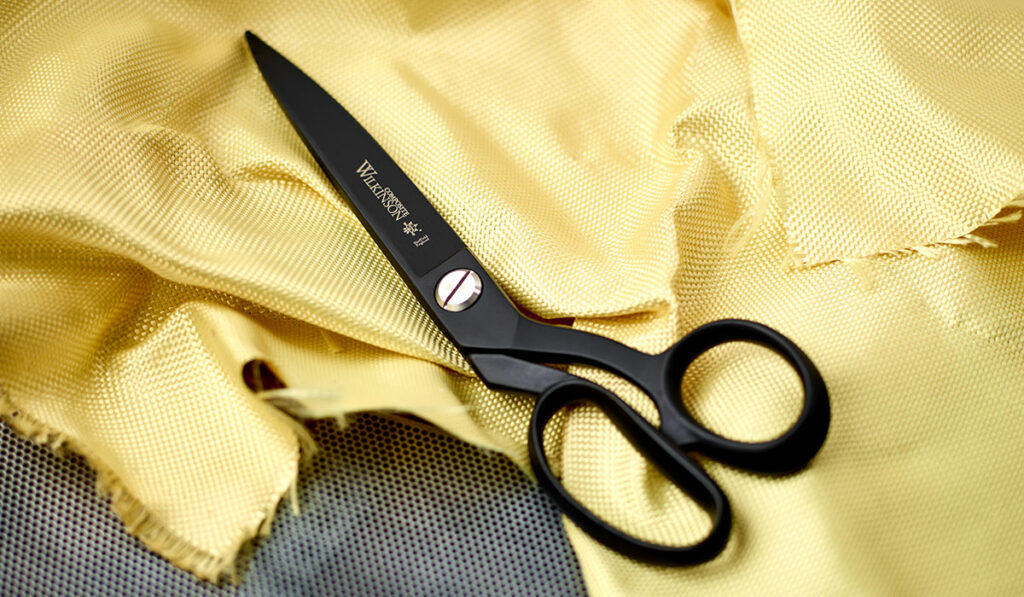 If you're looking for something a bit different this Christmas, what about scissors designed to cut through material capable of stopping a bullet in its tracks?
In the early 19902, we were approached by a company supplying tools to the manufacturers of Kevlar who were struggling to cut their huge spools of material. This was causing lost production time and wasted fibre. We got straight to it and after much trial and error, we solved their cutting problem!
Our Kevlar shears were scientifically deigned by our directors and even left PhD students at the University of Sheffield stumped as to why and how they cut Kevlar so fantastically.
"Lots of tests were done, with electron micro graphs taken of the cutting edges and so on which were very interesting – under the huge magnification, the Kevlar cutting edge looked as if it had been curled back by being bashed with a hammer; the Kevlar sample was ragged and mangle but cut! They couldn't work out how the scissors cut the Kevlar, so we now call it a black art."
Great for cutting Kevlar in many applications, including protective clothing, bicycle tyres, mooring lines and racing sails; they certainly make cutting the impossible, possible.
To purchase, click here.
Still unsure?
Still haven't quite found what you're looking for? Not to worry! We have a whole array of gift for him ideas across our Whiteley's catalogue, including a DIY shears, Electrician Snips and Lightweight Kitchen Scissors to name just a few.
Click this link to be taken to our top gifts for him picks.
See something you like but it's out of stock? Please email [email protected] and we will ensure you are the first to know when they are made available again.